Asmussen Now Second in All-Time Training Wins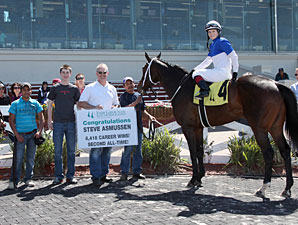 Photo: Hodges Photography
Jake Jourdan in the Winner's Circle, Steve Asmussen's 6,418th win.
Trainer Steve Asmussen moved ahead of Hall of Fame conditioner Jack Van Berg into second place for most lifetime training victories when favored Jake Jourdanromped home 5 1/4 lengths in front March 28 at Fair Grounds Race Course & Slots.
The victory, which came in the fourth race, was number 6,418 for the 47-year-old Asmussen. He came into the day needing two wins to pass Van Berg. He got the first one about six minutes before Jake Jourdan's victory when Cabe took the third race at Oaklawn Park.
"It feels very good," Asmussen said by phone. "It's obviously very significant and it proves we've been doing it a while, if nothing else. We'll hope for a bunch more winners. Racing's kind of a funny game, you know, and everything will be alright as long as the next one wins."
Asmussen is an 11-time Fair Grounds training champion and leads the current standings at the New Orleans oval. Asmussen is also the owner of both Jake Jourdan and Cabe.
Rosie Napravnik rode Jake Jourdan, the 7-10 choice in a field of 10, to victory in the $5,000 claiming race at six furlongs. The winning 4-year-old Louisiana-bred gelding by Ide   took control on the turn and won under hand urging in the final furlong.
The late West Virginia-based trainer Dale Baird, killed in a car crash in 2007 at age 72, remains the world's all-time leading conditioner with 9,445 winners over a 46-year career.
Asked how one manages to amass so many wins at a relatively young age, Asmussen laughed and said, "You just keep at it, I guess."
Van Berg, who is based in Southern California, had one starter scheduled March 28 in the eighth race at Santa Anita Park.