Look Out Hunter World, The OTTBs Are Coming!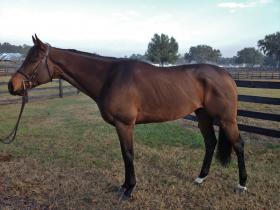 "It's been a while since I've had a Thoroughbred, and it's easy to see that they really are smarter," said Jennifer Alfano after her first days with Old School, or "R.J."
Even the biggest names in the hunter business are catching the off-the-track Thoroughbred bug. Last fall, rider Jennifer Alfano and trainer Susie Schoellkopf decided to find an off-the-track Thoroughbred join their string of top show hunters at SBS Farm. Jen Alfano will be blogging for theChronicle about the experience.
With the popularity of the Jockey Club'sThoroughbred Incentive Program, Susie and I thought it would be fun to have our own Thoroughbred in the barn. I've had great horses off the track before. I rode a lot of them when I was a junior, and as a professional I had great ones like Red Onion in the early 1990s, and one of my all time favorite horses, Kansas, [who won the AHSA first year green horse of the year award in 1997] who had been off the track for a while by the time I got him.
Rodney Jenkins told Susie about horse he had that he thought would be a great hunter. So we went to Laurel Park (Md.) where he was living with Rodney to try him. He was very much still in training—we were there on a Tuesday and he was supposed to race on Friday.
It was a little different than the way you usually try a hunter these days. We got there in the early afternoon when everyone else was done training for the day and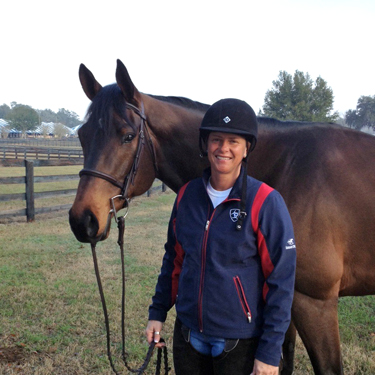 Jen and R.J.
it was quiet. There was no riding, no jumping—they just led him out, trotted him up and down the road. We thought we liked him, so we had him vetted the next day.
We thought he was beautiful, and Rodney swore he would be quiet and perfect, and obviously, his recommendation means everything. We thought it'd be fun to take a shot, so we bought him.
His registered name is Royal Straight, and he's by Smarty Jones and out of Cozzena by Cozzene. We decided to name him Old School, for fun, and we call him R.J., after Rodney, in the barn.
Getting Acclimated
R.J. came in mid October, and we turned him out for a couple days to let him relax. He was still intact, so we sent him to Lexington, Ky., to be gelded, then he stayed at our vet, Melissa Welker's, farm in Kentucky till we went down for the Alltech National Horse Show (Ky.).
When we got home we started to suspect that Rodney was right and he really would be super quiet. We'd turn him out all morning, but he wouldn't get enough exercise. He'd just stand there watch us ride, so we hand walked him in the afternoons as well to get him moving. As soon as his 30 days were up, I turned to our working student Luke Olsen and said, "OK, you're getting on!"
It's a freezing cold day in November in Buffalo, and as Luke's leading him to the mounting block I'm telling him he needs to be careful, and he needs help getting on. So our barn manager, Jessica Liftin, is holding him at the mounting block and he gets on all nervously, and R.J. just stands there like "What's the big deal?" Then he walks and trots around the ring on a loose rein like a lesson horse, quiet as can be.
I rode him the next day and he was quiet and easy from the start. He was very stiff, though through his whole body and his neck, so that's what we've been working on. He came right around and just kept getting better and better, and he just has this nice relaxed way about him.
It's been tough for him to pick up the left lead, which seems counterintuitive, so we've been working on that. And he doesn't always steer the best, so we've been practicing that too, but he's so smart so it's been easy. It's been a while since I've had a Thoroughbred, and it's easy to see that they really are smarter. They retain everything they learn, and they start each day where they finish the day before. Sometimes with a warmblood, every day is like they've never done it before.
We've jumped him a little bit, but just for our own curiosity, over a few little crossrails and verticals. That's how we saw another great thing about him: he has perfect, natural lead changes.
Unbelievably Quiet
He's been perfect in the barn from the day he arrived, goes right on cross-ties and doesn't mind anything. When he came back from being gelded Jess had him in the grooming stall and he was so relaxed, so she carefully attempted to pull his mane. I walked by and he's basically asleep as she's yanking on his mane. Later I said, "his ears are a mess, see if you can trim him" and I came back and he's standing like a statue, no one holding him, as she's trimming his ears.
At that point, I thought something had to be wrong with him. He was a month or so off the track and this quiet. So Susie and I had the vet come out and do bloodwork—but he's fine! It's just his demeanor: dead quiet.
I have his papers, and I see that he won two races, but I don't know how—maybe it was at the greyhound track!
He's gained a lot of weight since we got him, but he definitely still looks like a race horse. He's eating plenty to help him put on weight. He gets as much hay as he'll eat plus pellets, oats, flax seed, beet pulp, alfalfa. It will just take him some time.
We brought him to HITS Ocala (Fla.) with us for the season. He's settled in well, and maybe by the end of circuit he'll show in a baby green class. We'll see how he feels.