Lone Star shows signs of life
The Texas racetrack has not been in racing's spotlight since 2004
Updated: July 11, 2014, 2:13 PM ET
By Gary West | Special to ESPN.com
Horsephotos.comTen years after hosting the Breeders' Cup, Lone Star hasn't been able to recapture the spotlight.
GRAND PRAIRIE, Texas — Just 10 years ago, the highlight of the Lone Star Park season was the Breeders' Cup World Thoroughbred Championships. This year, it's Saturday's Texas Thoroughbred Association Futurities. Much has changed. Just 10 years ago, Ouija Board, Afleet Alex, Ashado, Kitten's Joy, Azeri, Funny Cide, Pleasantly Perfect and Ghostzapper all raced at Lone Star. This year, Vivian Da Bling, Unbridled Kid and Supermason are the headliners.
Not too long ago, the sport regarded Texas as the Promised Land. But the embarrassing actuality is that Texas horse racing is moribund, nearly dead, or at best irrelevant. Since the Breeders' Cup camped here in 2004, bringing together such disparate forces as Willie Nelson and Lord Derby, Texas racing's only goal has been archmediocrity. But there has been a single sliver of distinction: Promising young horses continue to emerge from Lone Star Park, horses such as Fiftyshadesofgold, who won the Eight Belles Stakes, and Promise Me Silver, who won the Debutante Stakes, and Silverhill, who ran second in the Bashford Manor. Before their stakes success in Kentucky, they all won their debut at Lone Star.
It's rather remarkable actually. Horsemen have almost no incentive to race their good horses here: Since 2004, stakes purses have declined 65.36 percent and daily purses 31.84 percent, and that doesn't include the brief boutique meeting created to accommodate the Breeders' Cup. Because of that, the previous year might provide a more accurate metric: Since 2003, Lone Star's daily purses have dropped 43.12 percent and total stakes purses 76.63 percent. At $128,990, average daily purses are well below the Mendoza Line, and yet some talented and promising juveniles still race here.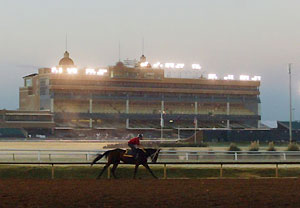 Horsephotos.comSeveral young runners are getting off to a good start at Lone Star Park.
"A lot of my owners are Texas people," explained trainer Bret Calhoun, who has entered eight 2-year-olds in Saturday's futurities, "and they want to see their horses run. And so we use [Lone Star] as a place to develop young horses, get them started and see if they're good enough to go elsewhere." Calhoun said a couple of the youngsters he has entered Saturday could, if they run well, go to Saratoga for stakes engagements."A lot of these 2-year-olds I could have sent to other places and would have been confident they could win," the trainer said, "but this is a good place to get them ready and so we pointed for these races."
Except for that sliver of distinction and life, though, Texas racing fans and horsemen have had little to interest or excite them in 10 years. In fact, they've been on a death watch, thanks largely to state government's benighted indifference and monolithic hypocrisy, as well as the inertia of the governor and the legislators, who even when working together can't seem to decide what century this is — some say the 20th, but others argue the 19th. It's not that Texans are opposed to gambling. No, gambling is virtually wide-open everywhere in the state — except, of course, at the racetracks; or, as the head of governmental relations for the Texas District and County Attorneys Association once pointed out, if good people do it, "sin ain't sin."
And so since that historic and glorious Breeders' Cup, since in other words Ghostzapper won the Classic to culminate his Horse of the Year campaign, average on-track handle at Lone Star has declined 37.31 percent, and total handle 56.39 percent, proving rather conclusively that little girls in short skirts and cowboy boots who come to the track to hear a handsome warbler don't wager. Money bet off-track on Lone Star's racing has declined 22.3 percent this year alone, down precipitately from a year ago, and why shouldn't it be? Nobody wants to bet on races that aren't competitive and attract small fields, and nearly 44 percent of the betting favorites win at Lone Star. Despite concerts and promotions, average daily attendance has dropped 26.62 percent over the last 10 years. Worst of all, the foal crop, or number of racehorses born in the state, is expected to slip to about 500 this year, which would represent a pratfall drop of 71.37 percent since 2004, confirming what everybody has seen, that there has been an exodus of horsemen and horses and a closing of most farms.
Except for that sliver of distinction and life, though, Texas racing fans and horsemen have had little to interest or excite them in 10 years.
But in Texas there's a long tradition of racing fast 2-year-olds. Because trainers lose little or no training time to weather in the winter, they can get their youngsters ready to roll early here — King Ranch did it in the 1940s and 1950s, sending its race-ready babies to New York in the spring and summer, and Steve Asmussen and Calhoun follow the same plan today. And so Calhoun will saddle the favorite in each of the futurities, Vivian Da Bling in the fillies' division and Supermason in the colts'."As far as pure talent goes, she's a very nice filly, very fast," Calhoun said about Vivian Da Bling, a gray daughter of Too Much Bling who won her debut by more than nine lengths with jockey Cliff Berry having a firm hold of her after five-eighths of a mile in 57.81 seconds. "If she runs up to her billing Saturday, she could go on to bigger things."
Supermason is equally intriguing. For his debut, he hesitated at the break and then walked out of the gate, but he rallied to finish third behind Silverhill, who then went to Churchill Downs for the Bashford Manor Stakes. In his second outing, Supermason left the gate sharply and won by more than four lengths while in hand. A heavy-headed, long-striding colt, the son of Grasshopper looks as if he could improve significantly as the distances stretch out.
For the moment, though, he'll race five-eighths of a mile, the futurity distance. And for the moment, Texas racing will try to hang on to a sliver of life.