Longtime Horsemen and AQHA Hall of Fame Member Joe Kirk Fulton Dies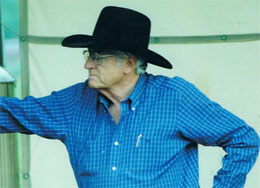 Longtime Horsemen and AQHA Hall of Fame Member Joe Kirk Fulton Dies
STONEWALL, TX—AUGUST 2, 2013—AQHA Hall of Fame member Joe Kirk Fulton died Thursday following a long battle with cancer. Funeral services are pending.Fulton has bred the earners of more than $16 million on the track, including world champions Dashs Dream and Special Leader, and 72 other stakes winners. He also bred and/or owned stallions that have sired the earners of more than $60 million.
He served as an AQHA director and director-at-large and as chairman of the AQHA Stud Book and Registration Committee which also has recognized him with the Gordon Crone Special Achievement Award. Fulton was inducted into the American Quarter Horse Hall of Fame in 2011.
Fulton was raised near Lubbock, where his family made a fortune in banking, pipeline oil and gas. He and his father also developed a major cattle operation on their Quien Sabe Ranch near the Texas Panhandle town of Channing.
In 1952, while a student at Texas Tech University, Joe Kirk became the school's first mounted mascot, performing as the Masked Rider in parades and at football games. Throughout the '50s and '60s, he showed halter and cutting horses.
He and his wife Merle lived at their Stonewall, Texas ranch at the time of his death.